Small but mighty - brighten up your home with mini plants
Which mini plant is suitable for you?
The choice of mini plants is enormous! With a mini version, you quickly think of a cactus or a succulent. But there are many more small plants. Think about the peperomia, grass lily, mini orchid, carnivorous plants and crocodile tears. The best part about these small plants is that your can easily place them in small groups. For example in the window sill, on a shelf or under a bell jar on the table. Place a number of plants with a colourful flower between them and create a playful effect!
Combine trendy colours
Mini plants come to their full advantage in matching pots. Do you like a smooth design? Opt for our white mini flowerpots. Do you want to create a colourful whole? Take a look at our colourful brussels round mini collection. These flowerpots are specially designed for the trendy mini plants. Tip: place various shades and colours in small groups.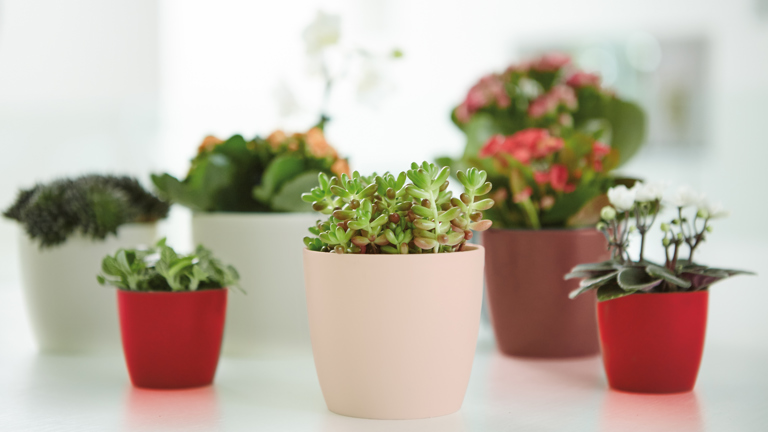 Help your cactus and succulent survive the winter
Succulents and cacti need relatively little maintenance and water. But be careful! This particularly goes for the winter period. The summer is a growing period. If you want your plants to grow, they need sufficient water. Are you going for a succulent or cactus? View our b.for diamond flowerpot collection. These flowerpots are specially designed for the cactus and succulent. Extra benefit: the plants can be potted in flowerpots without extra potting soil and in their container.
Sunny window sill
Ensure your cactus and succulent get a bright spot on the window sill in the summer. In their 'hibernation' these two plants mainly need a cool spot. The best place for the peperomia, crocodile tears and grass lily is the window sill and they need sufficient water. The mini orchid is the odd man out. Every week, submerge this plant with the roots in water for 10 minutes.