DIY: get started with vertical gardening
Vertical gardening has really become a trend in this past year. Not surprising when you consider that cities are becoming more densely populated and we have less and less space to enjoy greenery in the garden or on the balcony. A shame! Plants not only have a positive effect on your own well-being, they improve biodiversity (hello butterflies and bees!) and cool down the air on hot days. So why not use all the space we have outside to surround ourselves with greenery?
Clever solutions for a vertical garden
If you look for inspiration on Instagram or Pinterest, you will soon find yourself in a green oasis. Very beautiful of course, but how can you actually start vertical gardening at home? Don't panic! Elho has plenty of clever solutions to make it as easy as possible to surround yourself with nature. In no time at all you can create your own vertical garden that is not only a sight to behold, but also easy to maintain! Unbelievable, right?
Go for an industrial look with the loft urban green wall
Do you like an industrial look? Then the loft urban green wall is an amazing option for your vertical garden. The base is a wall rack that you can attach to your wall horizontally or vertically. The matching loft urban green wall single and duo planters have hooks at the back for easy rack mounting. The pots are available in white, grey and brique. So you can go for a calm atmosphere with matching colours or get creative with colour blocking. Of course, you can place several racks next to each other to create a playful effect.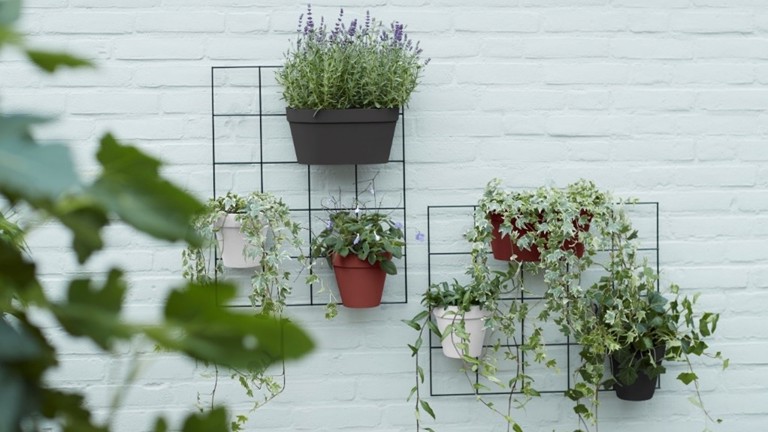 Taking care of the plants in your vertical garden is a piece of cake with the loft urban collection. The pots contain an overflow pipe, so that excess water is drained away. In this way, your plants are never too wet and you prevent root rot.
Add colour to your balcony railing or wall with our corsica vertical forest
We love colour! Not only in the flowers of our plants, but also in our pots. As far as we are concerned, colour makes everything more cheerful and cosy. That is why we are so happy with the colours of our corsica vertical forest collection. But not to worry, this handy vertical gardening system is also available in black or white. There is always something for everyone!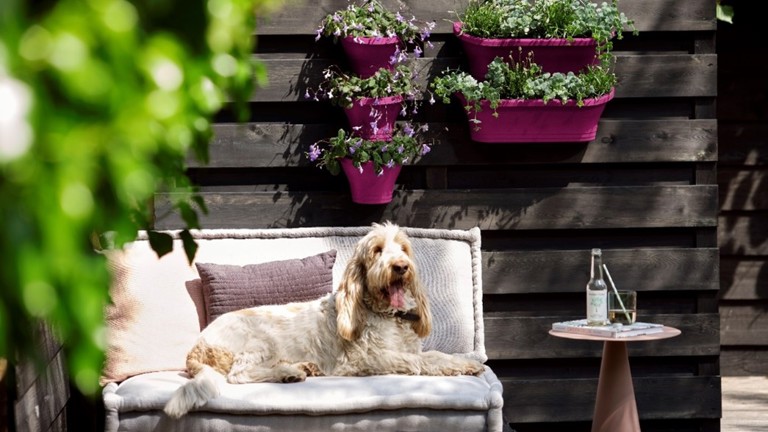 The corsica vertical forest is available in a small (set of 3) and large (set of 2) variant. Both are supplied with two different types of hooks, allowing you to hang the vertical forest on your balcony railing or on your wall. You can choose to hang the two types separately or combine them to create a playful effect.
Go for a green wall with the corsica wall basket
Do you dislike hooks, but still want to hang your vertical garden on a wall? Then the corsica wall basket is also a fantastic an option. These are available in the same cheerful colours as the corsica vertical forest collection, but have a special holes at the back for nails or screws. The corsica wall basket is available in lengths of 25 cm and 39 cm.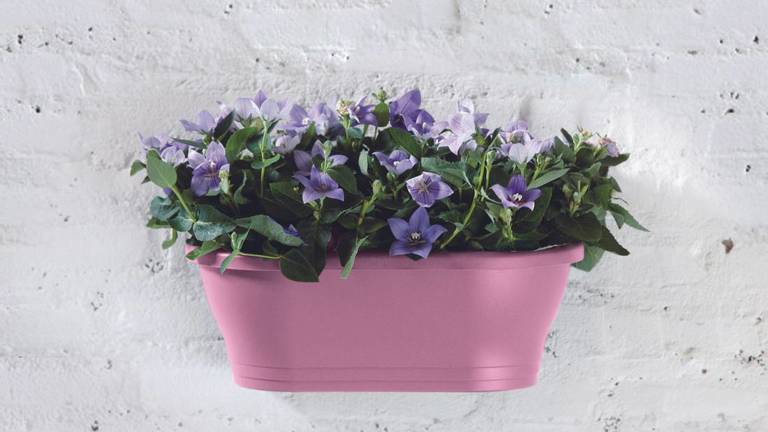 The entire corsica collection is fitted with a handy overflow pipe. In this way your plants are never too wet, they are protected against root rot and the plant roots are perfectly aerated. As a result you can enjoy your plants in your vertical garden even longer!
Vertical garden without drilling holes in your wall
Do you think it's a hassle to drill into the walls for your vertical garden? You can also easily attach the wall hooks of our barcelona collection to a wooden plank. This way you avoid making holes in your walls and you can move your vertical garden around. Make sure you distribute the weight well so the plank doesn't fall over. The wall hooks can be combined with the barcelona balcony planter of 40, 50 and 70 cm in length, allowing you to play with sizes.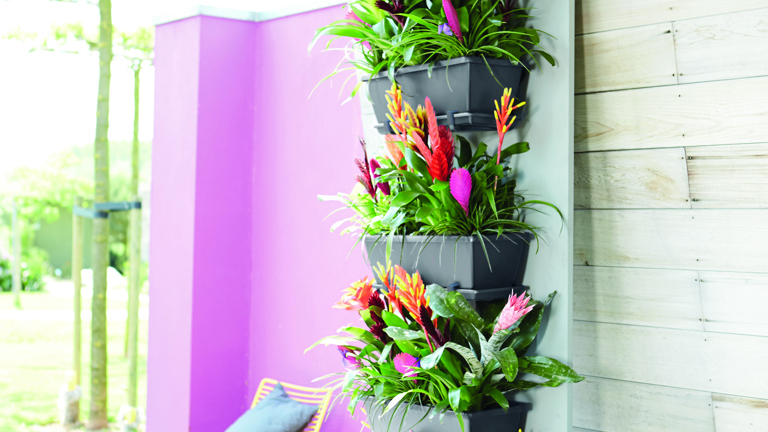 Share your green creation with us!
Hopefully, after this blog post, you are itching to start vertical gardening! Do not forget to share your green creation with us via #elho on Instagram. We reward the best entry per month with a cool giveaway package full of elho products. So you can make your garden even greener!