Garden lighting: fairy-tale beautiful
The benefits of a well-lit garden
The main reasons for lighting your garden are convenience, atmosphere and safety. In the evening, when you arrive home in the dark, you can effortlessly drive the car up the driveway and easily find your way to the front door, thanks to garden lighting. Once you're with the family at the dinner table, a well-lit garden makes a beautiful sight. And you can sleep soundly feeling safe. In the autumn and winter months the number of home burglaries certainly increases. Research has shown that burglars prefer to skip houses and gardens with outdoor lighting. Well, what a comforting thought!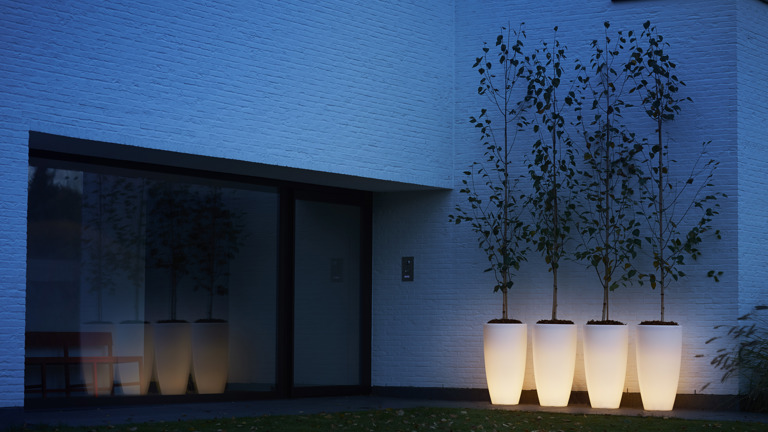 How do I set up a lighting plan?
In practice, it is usually easiest to draw up a lighting plan together with the design of the garden. Is your outdoor area already finished? No worries. There are various tricks to put together the most beautiful garden lighting, just like you want. For example, place tea-lights in your garden at places where you want to place a lamp or lighting. Then look from the patio or from the living room and see what the effects of the light sources are. This way you can see if your plan will be successful in practice.
Original garden lighting: less is more
As with plants and flowers, contrast can be atmospheric in your garden: in this case, light and dark. It's better to choose less garden lighting than too much. Also keep an eye on the atmosphere you want to create. In addition, the colour of the light is decisive. White light looks generally modern, while yellow light sources give a warm effect. Also work with ground spots and highlight the 'main features' in your garden. Think of ornamental grasses such as chinese fountain grass, pampas grass, spiky fescue and big blue lilyturf and the trunks of potted trees. This creates a fairy-tale effect in the dark months.
Innovative and atmospheric: that's elho
In elho's assortment of you'll find a wide collection of garden lighting. There is also the modern, stylish pure soft round high LED light and the easy to adjust pure straight LED light. This design is also available in different heights. All models stylishly compliment the plants, which creates a special atmosphere in your garden right away. The pure twilight is, in turn, the solution for atmospheric balcony lighting; this revolution in the field of outdoor lighting combines a unique planter with a light hood. Rather not fuss with cables and power for lighting in your garden? The flowerlight only needs sunbeams to grow into your garden's eye-catcher!