green basics rainbarrel plus 200ltr living black
£219.00
Made with recycled plastic, made with wind energy, 100% recyclable
The rain barrel has a capacity of 200 litres.
Including stand: Make effective use of the full capacity of the rain barrel and easily place your watering can under the tap.
Full description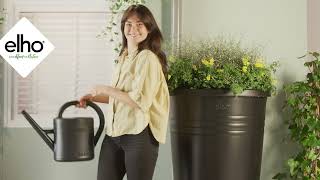 Product information
Get inspired...
Are you conscientious about water? The new green basics rainbarrel plus makes it easy to collect rainwater for reuse. The rainbarrel has a capacity of 200 litres. This elho rainbarrel comes with a tap and a sturdy stand. There's even a planter on top so you can brighten it up with greenery. Made from 100% recycled material and produced using wind energy. The plastic rainbarrel is also 100% recyclable.
Good for the planet and your wallet
Water your flowers and plants with water from the rainbarrel. You'll use less tap water, which is better for your soil and for nature too!
Plus, rainwater is free! Collect rainwater with the green basics rain barrel plus and save money on your water bill.
Naturally pure
Did you know that flowers and plants are happiest when they're watered with rainwater? That's because rainwater doesn't contain minerals like calcium that are found in tap water. It's another good reason to collect rainwater with the green basics rainbarrel plus.
Complete with stand and tap
The elho rainbarrel comes with a tap and a sturdy stand. The stand gives the rainbarrel stability and allows you to fit a watering can under the tap. The tap is positioned near the bottom of the barrel so you can drain all the water from it. As a nice extra, it has a planter on top for flowers or plants.
Technical specification
| | |
| --- | --- |
| Measurements | ⌀ 71 x H 0 cm |
| Volume | 200 l |
| Weight | 10873 gram |
| Color | black |
| Shape | round |
| Material | Plastic |
| Product type | rainbarrel |
| Product usage | grow your own |
| Waranty | 2 years years |
| Wheels | No |
| Water reservoir | No |
| Drainage system | No |
| Lowered bottom | No |
| Drill holes | No |
| Optinal drill holes | No |
| Container proof | No |
| EAN | 8711904523329 |
green basics collection
Elho likes our world to be green! That is why we select sustainable production methods for our products and include recycled plastic in our green basics products. Our collection offers both functional and fun products for every growth phase. Elho has something for everyone, whether you are just starting out or have been passionately growing your own food for years.
Recommended combinations
green basics rainbarrel plus 200ltr living black
green basics rainbarrel plus 200ltr living black
green basics rainbarrel plus 200ltr living black
green basics rainbarrel plus 200ltr living black