vivo next long 80cm white
Made of 100% recycled plastic, made with wind energy, 100% recyclable
The integrated water reservoir has a capacity of 18 litres
On invisible wheels so that you can easily move your plant pot. Useful if you want to rearrange things.
Full description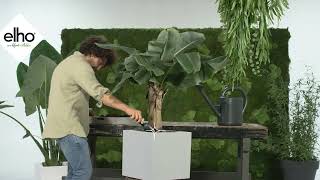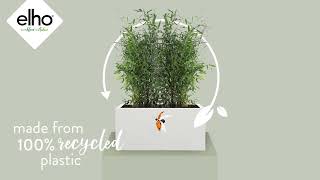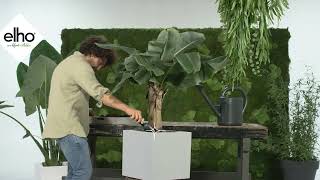 Product information
Full description
With their modern design and square shape, the vivo next planters give a refreshing look to your garden or interior. The integrated water reservoir allows you to take care of your plants effortlessly, and thanks to the included plug, you can use it both indoors and outdoors. With its integrated wheels, you can easily move this planter wherever you'd like! You can trust that our love for nature is reflected in how this pot was produced: it's made from recycled plastic, produced with wind energy from our own windmill, and it's also fully recyclable.
Taking care of your plant? Easy peasy!
Vivo next planters have an integrated water reservoir. They can store a lot of excess water, so that your plant can absorb it later. This way, you prevent your plants from becoming too wet, and they'll still have reserves when they're thirsty again. It's especially useful if you accidentally forget to water them, or if you've overwatered them. This way, you can enjoy your beautiful green plants even longer.
Place it wherever you want
Thanks to the plug, our vivo next planters can be used indoors as well as outdoors. Do you want to use the pot outside? Remove the plug from the bottom, as this will prevent the reservoir from flooding after a heavy rainfall. Indoors, you can use the plug to ensure that no water gets spilled on your floor and, thanks to the integrated wheels, the pot is easy to move wherever you'd like. Give your garden or interior a fresh touch in no time!
This one's a keeper
These high-quality pots are made of 100% recycled plastic. They're super strong and sturdy, frost-proof and colour-fast! What's not to love?
Technical specification
| | |
| --- | --- |
| Measurements | W 80 x H 38 x D 39 cm |
| Volume | 63 l |
| Weight | 4577 gram |
| Color | white |
| Shape | rectangle |
| Material | Plastic |
| Product type | flowerpot |
| Product usage | indoor, outdoor |
| Waranty | 3 years |
| Wheels | Yes |
| Water reservoir | Yes |
| Drainage system | Yes |
| Lowered bottom | No |
| Drill holes | Yes |
| Container proof | No |
| EAN | 8711904498870 |
vivo collection
The modern design of this square-shaped pot provides a refreshing new look, inside and out. Thanks to their shapes the vivo pots are the ideal divider for your home or garden.
Service products
View the spare parts that you can order for this product.

Universal green plug
In Stock