magic microgreens toffee terra
Made of 100% recycled plastic, made with wind energy, 100% recyclable
Always have fresh and healthy microgreens at hand.
Follow the growth process of your micro-vegetables!
Full description
Packaging materials
New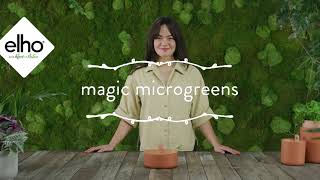 Product information
Full description
Grow your own microgreens quickly and easily with the magic microgreens! Sprinkle your seeds on the strainer and fill the outer pot with water. Cover the pot with the lid if you want to germinate your seeds in the dark. You can harvest your healthy microgreens just a week later!
Grow your own greens
Microgreens aren't just delicious – they're super healthy too! Which microgreens will you add to your meals? With magic microgreens, deciding which seeds to choose is the hardest part! After that, all you need to do is fill the outer pot with water up to the strainer tray, then spread the seeds over the tray. Moisten the seeds with a plant sprayer. Then simply follow the instructions on the seed packaging. Cover the pot with the lid if you want to germinate your seeds in the dark. Change the water in the outer pot every day. You can harvest your fresh microgreens just a week later!
Grow all year round
There's no need to wait for spring or summer – you can sprout microgreens in autumn and winter too. Put the magic microgreens on your kitchen counter or windowsill. You can see up close how quickly the seeds develop into tiny plants. Grow your own cress, rocket, radish, broccoli, mustard, and more.
A real eye-catcher
The magic microgreens comes in beautiful monochromatic shades. You can combine the pot with the other products in this collection, like the bouncy basil and the amazing avocado pot. Create a look that's not just greener but on-trend too!
Technical specification
| | |
| --- | --- |
| Measurements | ⌀ 17 x H 7 cm |
| Volume | 0.7 l |
| Weight | 221 gram |
| Color | brown |
| Shape | round |
| Material | Plastic |
| Product type | flowerpot |
| Product usage | indoor, grow your own |
| Waranty | 2 years |
| Wheels | No |
| Water reservoir | Yes |
| Drainage system | No |
| Lowered bottom | No |
| Drill holes | No |
| Optinal drill holes | No |
| Container proof | No |
| EAN | 8711904520724 |
gyo indoor collection
The new gyo indoor family looks great in your kitchen or on your window sill! You can grow your own avocado plant like you see on Instagram. Keep your basil plant healthy, so you can use the leaves for more than one occasion as the plant keeps growing. And enjoy your own microgreens; a source of vitamins, minerals and protein. With the two-toned coloured pots and bowl it is difficult to choose!
Packaging materials
Because we respect nature, we recycle our packaging materials as much as possible. You can show respect for nature too by separating packaging according to your local authority's guidelines. Below you will find the packaging materials of the product packaging (not the transport packaging).
| | |
| --- | --- |
| paper & cardboard | Carton box (PAP21) |