bouncy basil leaf green
Made of 100% recycled plastic, made with wind energy, 100% recyclable
Always have fresh and healthy basil in your kitchen.
Keep your basil plant healthy; the pot makes it easy to see when to add water.
Full description
Packaging materials
New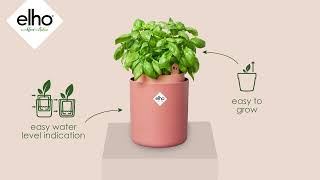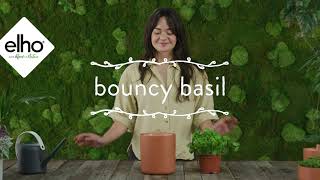 Product information
Full description
Keeping your basil plant healthy is a breeze with the bouncy basil pot. This pot has an inner pot and outer pot that are the perfect combination for basil maintenance: the inner pot floats on the water in the outer pot, keeping your herbs fresh and healthy. Made with love for nature, this product is made from 100% recycled plastic, produced using wind energy, and is 100% recyclable.
Prevents waterlogged roots
Fill the outer pot with water. Then push the pin with the attached cord into the hole in the inner pot. The inner pot floats on the water, and the cord gradually soaks the water up to the plant.
This system ensures that your plant always has enough water, so you can enjoy your fresh basil for longer. When the inner pot has sunk into the outer pot, it's time to top up the water.
Mixed herbs
As well as basil, this flower pot is perfect for growing other herbs like chives, parsley, and coriander.
A real eyecatcher
The bouncy basil comes in beautiful monochromatic shades. You can combine the pot with the other products in this collection, like the magic microgreens and the amazing avocado pot. Create a look that's not just greener but on-trend too!
Technical specification
| | |
| --- | --- |
| Measurements | ⌀ 17 x H 21 cm |
| Volume | 3.6 l |
| Weight | 502 gram |
| Color | green |
| Shape | round |
| Material | Plastic |
| Product type | flowerpot |
| Product usage | indoor, grow your own |
| Waranty | 2 years |
| Wheels | No |
| Water reservoir | Yes |
| Drainage system | No |
| Lowered bottom | No |
| Drill holes | No |
| Optinal drill holes | No |
| Container proof | No |
| EAN | 8711904520892 |
gyo indoor collection
The new gyo indoor family looks great in your kitchen or on your window sill! You can grow your own avocado plant like you see on Instagram. Keep your basil plant healthy, so you can use the leaves for more than one occasion as the plant keeps growing. And enjoy your own microgreens; a source of vitamins, minerals and protein. With the two-toned coloured pots and bowl it is difficult to choose!
Packaging materials
Because we respect nature, we recycle our packaging materials as much as possible. You can show respect for nature too by separating packaging according to your local authority's guidelines. Below you will find the packaging materials of the product packaging (not the transport packaging).
| | |
| --- | --- |
| paper & cardboard | Carton box (PAP21) |