The Frenchie Gardener: grow tables are my partner in veggie crime
So let me explain to you why the grow tables could also become your favorite! As for every urban gardener, we all have limited space to grow so we are always looking for solutions that can both be space efficient and provide enough room to nature to grow healthy greens. The elho grow tables have this dream combination:
Regarding space optimization, they have a perfect balanced size which makes them fit even on small balconies. On top of this (versus garden planters) they are surrelevated which frees up some precious floorspace to place other pots or gardening equipment underneath.
In terms of volume, here again, they are providing a perfect balance of length and soil depth, offering a great overall soil volume of 56L for the grow table xxl and 96L for the grow table super xxl. This combination makes the grow tables very flexible to grow leafy greens but also root vegetables.
Grow houses saved my life!
Another huge advantage is that you can add a specially designed grow house to your grow table so it offers a perfect protection all year long for your green babies.  The grow house makes the effect of a mini greenhouse which will protect your crops from many potential unpleasant situations. Here are a few examples on how these grow houses saves my veggies and gardening life:
Frost can harm many plants pretty easily, annihilating sometimes long efforts of care and attention. With these covers providing the effect of a mini greenhouse, your babies will stay warmer and more protected. A musthave in late autumn and winter, but also in spring to plant certain varieties earlier.
If you are growing lettuce, you might have already met this nemesis (yet cute!) called snails! As you know, they love to eat leafy greens for breakfast, dinner or even for a late night snack. Here again, these covers can be a real savior! When you see too many of them on your balcony, simply place the cover at night to protect your green treasures. Believe me, it makes a huge difference!
This year the weather is quite challenging and unpredictable. It happened to snow even in April but I could also witness pretty strong hail rains which in a few minutes can damage your plants. Same here, the grow house cover is making a great protection!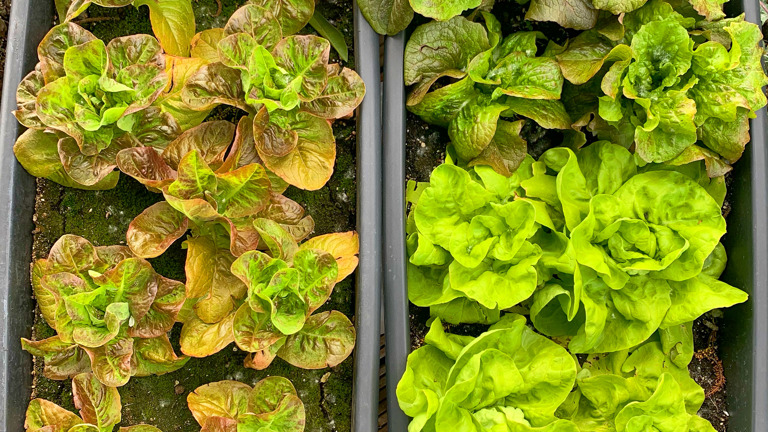 Grow different varieties
The grow tables have a great balance in terms of size with a great depth of soil which makes it super flexible to grow both leafy greens such as lettuce, spinach and kale but also root vegetables such as radishes, turnips or carrots. In my previous article, I shared with you the importance of prioritizing quality over quantity. Our vegetables need some space to grow healthy and the great news is that the grow tables are providing this needed balance. To make it easy for you, you can find below a table indicating you with the right quantity of plants per variety to ensure healthy, yummy and delicious harvests! Remember that one seed is one plant.
Lettuce

Grow table XXL: 8-10
Grow table super XXL: 20

Radishes:

Grow table XXL: 40 
Grow table super XXL: 60

Kale:

Grow table XXL: 6
Grow table super XXL: 10

Turnips:

Grow table XXL: 8-10
Grow table super XXL: 14

Spinach:

Grow table XXL: 8
Grow table super XXL: 14

Carrots: 

Grow table XXL: 12
Grow table super XXL: 22
Obviously, the numbers above are indicating you the maximum number of the same variety, but you can also for sure mix some crops together to grow one or two different varieties together. For example, radishes and lettuce are excellent growing companions. That would definitely be a match on tinder gardening!
What about growing and eating seasonal all year long?
From spring to winter, you can grow different varieties almost all year long in the same grow table. As said earlier, the grow house cover will provide the right protection to your veggies when it gets colder.
Here is for example a crop rotation that I did in the same grow table across four seasons. I started in January by planting some winter spinach. After harvesting, I rotated with lettuce in April, than planted some radishes in June, then kale in July, some beautiful turnips late August, then winter lettuce in November. In the same growing table, I could grow several varieties across several seasons.
So now imagine if you can host three or four growing tables, they can provide you with healthy, plenty and regular food all year long!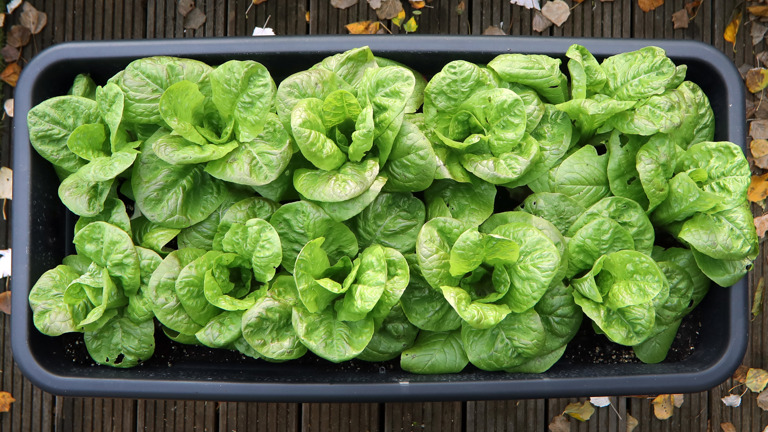 How to prepare your grow table
Now, I'm sure that you are convinced right? You might understand better why the grow tables are my partner in veggie crime! So to set you up for growing successes and harvests, here is my technique to prepare your grow table. Don't forget one essential thing: Without a great and rich soil, you won't grow anything healthy. Make sure to invest in an organic potting soil designed to grow vegetables, you won't regret it. So let's get started, you will see it's easy and fully organic!
Step 1: Add a bottom layer of clay balls (max. 4 cm high). Don't forget to also fill the legs of the grow table with these clay balls. They will ensure a good water drainage and soil aeration. A healthy soil needs to drain water and breath!
Step 2: This step is about adding organic matters so that it will give natural nutrients to your plants and hopefully welcome an active life within your soil! You can use leaves, grass cuttings, straw, cardboards (without ink or tapes), small and broken down wooden branches or even a mix of all of these! I also love to place some used coffee grounds or used tea bags.
Step 3 (if you have a compost bin): Take your organic potting soil and cover up with a small top layer. Then you can add the decomposed organic food scraps from your compost.
Step 4: Fill your growing table with your organic potting soil up to the top, water and stamp the soil. For the grow table XXL you will need one bag of 50L soil and two bags for the grow table super XXL.
Your grow table is now ready to welcome seasonal veggies! The mix of organic matters and great organic potting soil will make a perfect combination which will provide your plants with healthy nutrients.
I truly wish you to enjoy growing organic and may you soon obtain healthy and seasonal vegetables, which I'm sure will give you a lot of happiness!
Green love,
The Frenchie Gardener
Who is Patrick?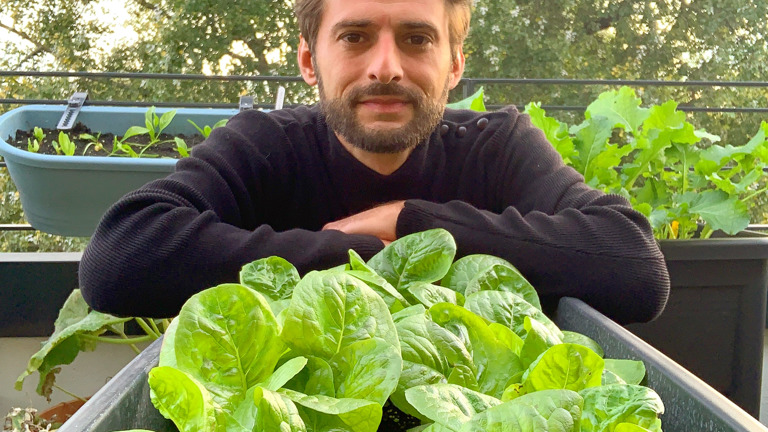 Patrick, better known as The Frenchie Gardener, started a few years ago with growing his own food on his small balcony in Amsterdam. In the meantime, he moved to Berlin where not only his balcony became a bit bigger but where especially his passion for urban gardening grew a lot. Patrick inspires gardening lovers on daily bases on his Instagram page, where he shares beautiful pictures of his own harvest and very helpful tips. He just published his first e-book easy guide to start growing your food, where he explains how and where to start gardening on a balcony in a very simple and accessible way.
Pictures by Frenchie Gardener en Sabine Gudath