Unleash the vertical space of your balcony with the veggie wall
If you have already experienced growing huge plants in pots, you have probably noticed how it can become complicated to stake up your plants correctly. If not, well, you will for sure experience these pepper plants growing as high as 1,5 meter. It can become a real challenge to maintain this beautiful & dense foliage straight, despite 4 or 5 strong bamboo sticks.
That's where the elho veggie wall is providing you with a helpful, easy & smart solution. It can really unleash the vertical potential of any growing space. And as you should now, this vertical space is a very precious resource on small growing spaces. This planter is coming with a net allowing your plants to always get the right support, avoiding them to fall off and break their beautiful stems. Support is key for both plants but also humans!
The veggie wall will create a beautiful vegetal green wall on your balcony, allowing you to enjoy this delicious feeling of having your own green oasis. While living in big cities, our balconies can be very close to another apartment or at sight of neighbors & upper floors. This veggie wall is then a great solution to get yourself more privacy & hide yourself into your green balcony heaven.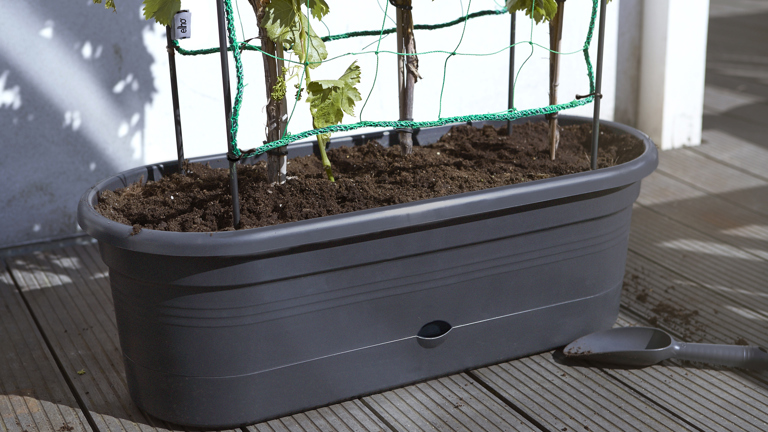 Optimal & easy for any growing space
It's extremely easy to set up your veggie wall, as it comes with a full kit to create an arch on top of the planter and then a net that you will attach to the structure, smartly creating a trellis. It literally takes 10 mins to build up.


The water reservoir has also a huge advantage as it avoids watering your plants
everyday and even more if you leave on holidays. Simply fill in the reservoir from the bottom, it will avoid water evaporation during warm weather & water your plants exactly where they need it, just right at their roots!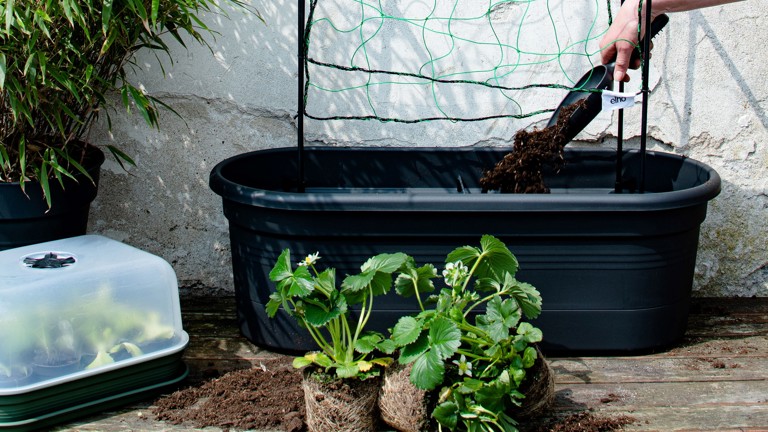 How to prepare your soil step by step in the veggie wall?
Let me share with you my secret recipe, I know, I'm very kind!


Place a layer of 2 cm of clay balls at the bottom of your veggie wall, this will create a beautiful area to allow water to drain out to the reservoir. This is a crucial element to avoid the roots of your plants to rot.
Add a layer of 2cm of soil and add on top of it a layer of straw (that you can buy in pet shops) or dried leaves (that you can gather in nature in the right seasons), grass clippings (check with your neighbors having a small garden) or wood chips.
You can then now fill the rest with your soil or follow these additional steps if you wish to:


On top of this layer, add a full glass of brewed coffee grounds. These organic components will decompose over time, nourishing your soil. Hopefully this will help to welcome earthworms, which will at their turn fertilize your soil just by magic!


Then fill up your veggie wall up to the top with 80% of soil & 20% of compost or worms humus. This combination will ensure your soil to be nourished on a long term basis, allowing you to grow beautiful & healthy plants. What can we grow in the veggie wall actually? That's a great question, thank you! Answers in the following paragraph.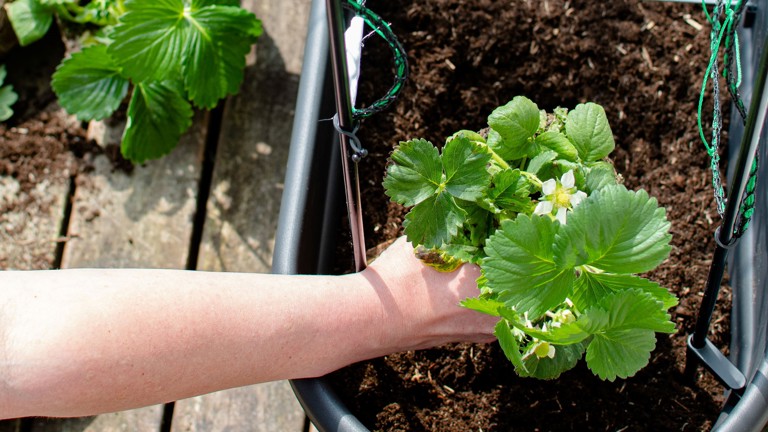 Seasonal varieties to grow in the veggie wall
The container capacity offers a total volume of 37,5L of soil, which is actually huge! It allows you to welcome several climbing plants. Here are my favorite ones:
Peas : You can plant up to 20/30 seeds to sow directly in the soil from the end of March if there are no longer strong frost to be expected. Blauwschokker peas are a great variety, tolerant to frost, they will be pleased in cooler temperatures. It will develop into a dense foliage, blooming into magnificent flowers & then giving birth to beautiful purple peas. You can expect the first harvest after two months. You can even plant peas a second time in the same year, by the end of August.


Once harvested, you can then chop down all the foliage, place it into your compost and then you have two options : small cucumber varieties or bell peppers that you can plant in early June.
You can plant 2 to 3 seedlings of cucumbers or peppers. Both of these plants will
develop a dense foliage & heavy fruits, which will definitely appreciate the support of the veggie wall arch & net. Place them in full sun to ensure a healthy development.
And if you ever live in an area with long & stable summer weather, you could even try planting peas early in March, then switch to pepper or cucumbers at the end of May, and then grow peas again at the end of August. This can be an ideal scenario that you should try. In gardening, everything is about adapting to your climate, test & learn. So let's do it!
Happy Growing & Green Love to you!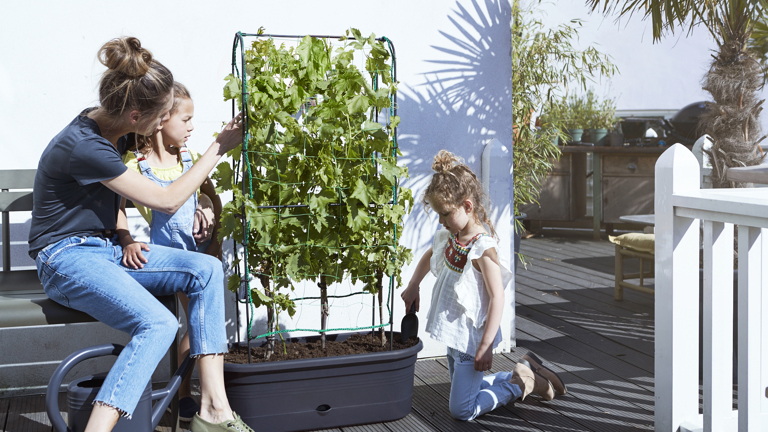 Patrick Vernuccio, known as "The Frenchie Gardener" on Instagram, is an Urban Gardener based in Berlin. He transformed his 18 sqm balcony into a green jungle in which he is growing organic seasonal vegetables & fruits. He waited 36 years to plant his first seed and is now advocating to welcome back Nature into our cities and our lives, to recreate this essential connection with food, seasons & ecosystems. Patrick is spreading Green Love through his successful instagram channel, writing for gardening magazines, teaching online gardening class and is certified of Permaculture Design Course. You can find more info on his website www.thefrenchiegardener.com