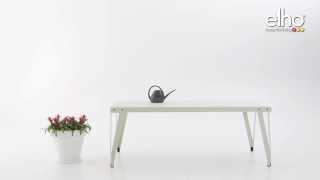 pure round 30
€ 19,99
Rekommenderat butikspris
Välj en storlek
∅ 30 cm x H 26
∅ 40 cm x H 36
∅ 50 cm x H 44
∅ 60 cm x H 54
∅ 80 cm x H 71
∅ 100 cm x H 90
∅ 120 cm x H 107
∅ 140 cm x H 123
Låt dig inspireras
pure round
Pure-produkterna från elho låter verkligen dina växter blomma! Pure round är tidlös och ett måste för alla växtälskare. Tack vare hennes unika vackra form passar hon in i alla inredningar, terrasser eller trädgårdar. Låt dig inspireras av obegränsade möjligheter med pure round! Tips För en friskare och starkare växt rekommenderar vi att pure round... Läs mer
Pure-produkterna från elho låter verkligen dina växter blomma! Pure round är tidlös och ett måste för alla växtälskare. Tack vare hennes unika vackra form passar hon in i alla inredningar, terrasser eller trädgårdar. Låt dig inspireras av obegränsade möjligheter med pure round! Tips För en friskare och starkare växt rekommenderar vi att pure round kombineras med ett speciellt pure-fat.Läs mindre
pure Kollektion
pure
"The beauty of nature along with modern-day architecture have been the source of inspiration in creating the stunning pure collection." The pure products are manufactured using a special technique known as rotational molding. They are then carefully finished by hand to achieve the desired end result. The use of sustainable 'polyethylene' plastic combined with the rotational technology ensures that the pure products are strong, lightweight, unbreakable and frost and uv resistant.
Tekniska specifikationer
polyetylen med låg densitet
inomhus, utomhus, balkong
Ease of elho; alla fördelar
10 års garanti
ease of mind
100% återvinningsbar
ease of mind
Tillverkad av återvunnet material
ease of mind
Premium kvalitet
ease of mind
Färgen behålls
ease of use
inom- och utomhusbruk
Allure
Frostbeständig upp till -40 °C
ease of use
Tillverkad med 100% vindkraft
ease of mind
Plast är ett mycket starkt material ochkan tåla en hel del. Om du stöter omkull eller tappar blomkrukan, kommer den inte brytas.